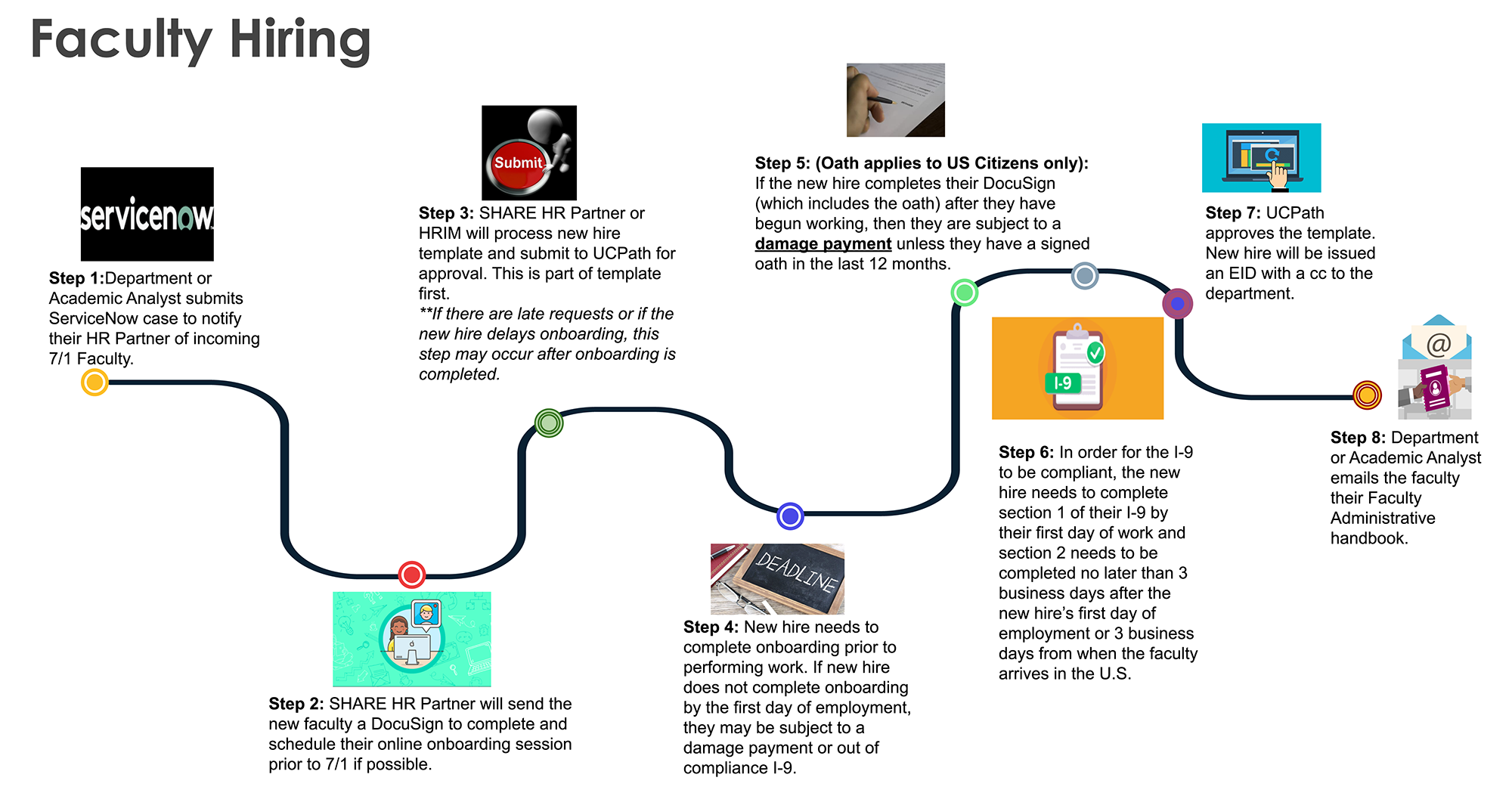 Expand to see Faculty Hiring Steps Text
Step 1: Department or Academic Analyst submits ServiceNow case to notify their HR Partner of incoming 7/1 Faculty.
Step 2: SHARE HR Partner will send the new faculty a DocuSign to complete and schedule their online onboarding session prior to 7/1 if possible.
Step 3:SHARE HR Partner or HRIM will process new hire template and submit to UCPath for approval. This is part of template first.
**If there are late requests or if the new hire delays onboarding, this step may occur after onboarding is completed. 
Step 4: New hire needs to complete onboarding prior to performing work. If new hire does not complete onboarding by the first day of employment, they may be subject to a damage payment or out of compliance I-9.
Step 5: (Oath applies to US Citizens only): If the new hire completes their DocuSign (which includes the oath) after they have begun working, then they are subject to a damage payment unless they have a signed oath in the last 12 months.
Step 6:In order for the I-9 to be compliant, the new hire needs to complete section 1 of their I-9 by their first day of work and section 2 needs to be completed no later than 3 business days after the new hire's first day of employment or 3 business days from when the faculty arrives in the U.S.
Step 7: UCPath approves the template. New hire will be issued an EID with a cc to the department.
Step 8: Department or Academic Analyst emails the faculty their Faculty Administrative handbook.
Roles, Responsibilities and Resources for Faculty
Who to contact 

Service/Action

Department/Academic Analyst

Notifies SHARE HR Partner of incoming 7/1 Faculty via a ServiceNow Case. In the case, the information below should be included:

Date the new Faculty will be in Berkeley, if known

Faculty email address

Faculty name

Attach Faculty appointment letter or short Faculty form

Creates new position number or updates vacant position number

Request to change fte, supervisor, pay rate if the position is filled

Funding changes associated to a position number

Provides Faculty Administrative Handbook to faculty after downloading a copy and making edits to customize to your department

Supports HR Partner in ensuring the Faculty completes onboarding prior to 7/1, if possible, or before they receive their first pay (7/31) at latest.

SHARE HR Partner

Can respond to questions about:

How to submit your appointment in service now

Onboarding

Employee's paychecks

Position numbers

End dates

Process terminations

Guidance on damage payments

Initiate overpayments and provide information on why overpayment occurred and gross amount was derived.

Coordinate and process necessary visas associated with appointment

Advise on health and welfare programs

UCPath entries for all updates to employee's HR records

Overpayment collection process and questions about overpayment letter totals or overpayment deductions, contact UCPath Center

Stop payment and reissuance of checks 

Change of address requests via self service

Direct Deposit

Questions about paycheck deductions and taxes

Central Benefits Team

Healthcare Facilitator services

Helps employees (and retirees) understand how their healthcare plan works, understand premium costs, plan comparisons and eligibility issues

Handles benefits policy interpretation.

Handles ACA interpretation and if it was applied correctly.

To contact the P&C Benefits Team submit an inquiry via ServiceNow

Berkeley International Office

Coordinates with HR Partner to issue visa to new Faculty.

Academic Personnel Office

If Faculty need to delay arrival, Dean's office and APO need to be informed and approve