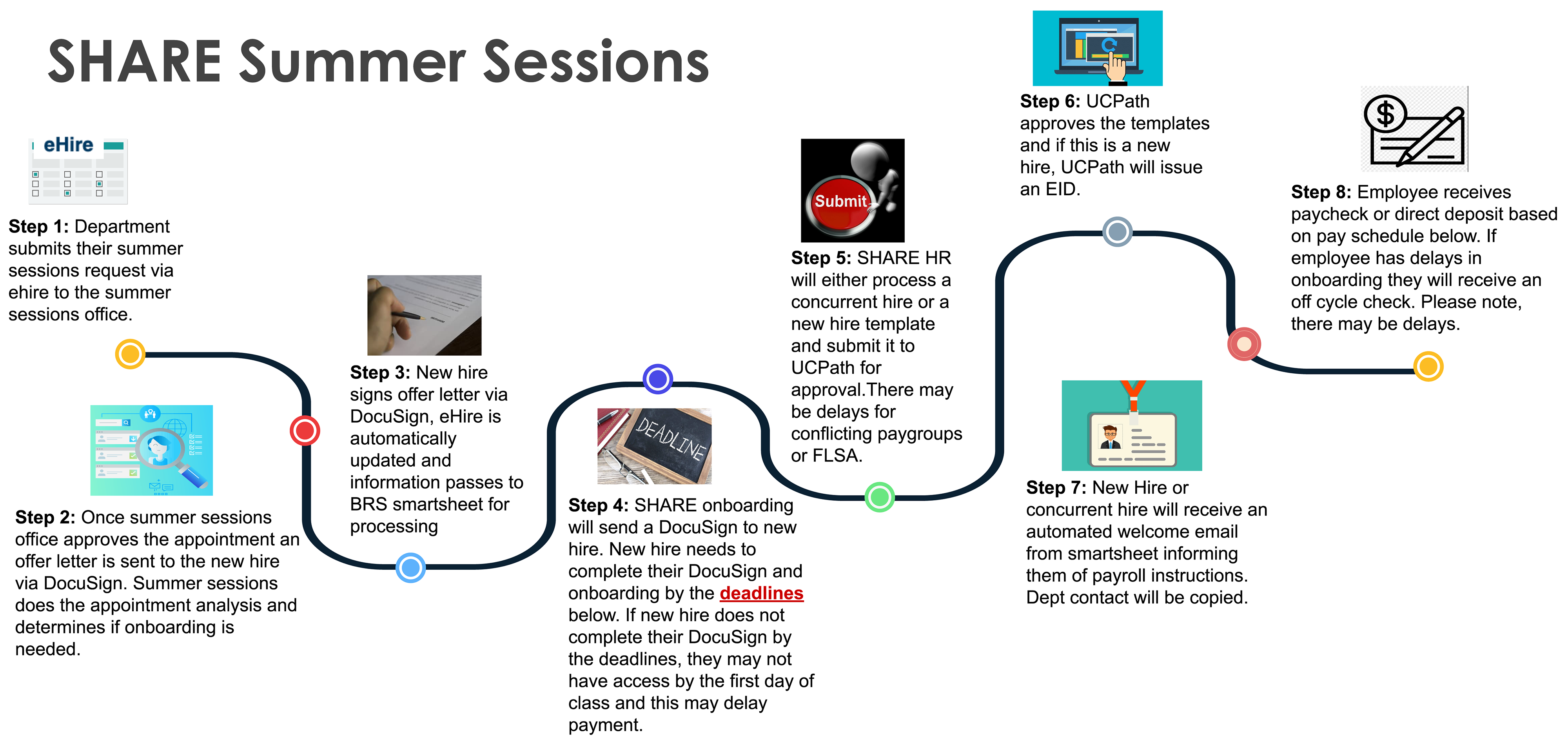 Expand to see Summer Sessions Hiring Steps Text
Step 1: Department submits their summer sessions request via ehire to the summer sessions office.
Step 2: Once summer sessions office approves the appointment an offer letter is sent to the new hire via DocuSign. Summer sessions does the appointment analysis and determines if onboarding is needed.
Step 3: New hire signs offer letter via DocuSign, eHire is automatically updated and information passes to BRS smartsheet for processing
Step 4: BRS central onboarding will send a DocuSign to new hire. New hire needs to complete their DocuSign and onboarding by the deadlines below. If new hire does not complete their DocuSign by the deadlines, they may not have access by the first day of class and this may delay payment.
Step 5: SHARE HR will either process a concurrent hire or a new hire template and submit it to UCPath for approval.There may be delays for conflicting paygroups or FLSA.
Step 6: UCPath approves the templates and if this is a new hire, UCPath will issue an EID.
Step 7: New Hire or concurrent hire will receive an automated welcome email from smartsheet informing them of payroll instructions. Dept contact will be copied.
Step 8: Employee receives paycheck or direct deposit based on pay schedule below. If employee has delays in onboarding they will receive an off cycle check. Please note, there may be delays.
SHARE Summer Sessions Roles and Responsibilities
Contact Party Responsible

Service/ Action

Department

Submits summer sessions hire request via Ehire

Ensures employee can work in the US

Ensures Lecturers are properly recruited

Coordinates visa requirements, if needed

Summer Sessions

Approves summer sessions appointment

Issues summer sessions offer letter

Does appointment analysis to determine if new hire needs to onboard

New Hire

Completes the DocuSign, 

Schedules onboarding appointment, if needed

Completes I-9, if needed

Completes onboarding appointment, if needed

SHARE Summer Sessions Team

Completes template first and submits to UCPath for approval

Provides new hire a welcome email with EID

SHARE Onboarding Team

Sends new hire a DocuSign packet to complete

Completes remote onboarding session with new hire where they witness the Oath and audit I-9.